Quick Info:
Number of weeks: 2
Price: $60
CEUs: 1.0
Required books?: Yes
Live video session?: No
Part of a certification or series of courses?: No
This course is about finding hope in the midst of death, disability or absence of a child you love. If you are living in a state of grief or would like to be supportive of someone who is living with this constant, unwanted companion, this course is for you.
Grief is one of the most uncomfortable places you will ever live. It hurts, confuses, upsets and frightens anyone who is living with it. Whenever there is loss, there will be grief, whether or not there is outward grieving or mourning. The loss you now grieve is not your only loss. Each new loss creates additional or secondary losses to identify and confront. Saving it up won't lessen the pain; it will only accumulate and intensify it.
It's time to realize that you are not alone, that what you are experiencing is normal grief. There is nothing heroic or noble about grief. It's painful. It's work. it's a lingering process. But it is necessary for all kinds of losses. Even though it will take effort, you may need to let others know what you need and what is the best way for them to help you. When grief becomes your close companion, you will experience it in many ways. it will permeate and change feelings, thoughts and attitudes. This is only an introduction to your grieving journey. Let's build the bridge a little further together.
Students are required to have a copy of Missing the Child You Love: Finding Hope in the Midst of Death, Disability or Absence, by H. Norman Wright, for this class.
This course is eligible for 1.0 CEU.
About the Instructor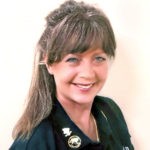 Annette Arnold-Pflaum is an ordained senior chaplain and is the founder and president of Wisteria Ministries. She has specialized in grief support and crisis counseling since the beginning of 2015.
Sr. Chaplain Annette is a Nationally Board Certified Chaplain [BCC], and has been a State of Nevada Licensed Minister since 2014. She is also a Certified Lay Minister in the United Methodist Church and holds a certificate in Congregational Leadership.
A retired nurse, Annette holds a bachelor's degree in psychology/family studies and associate degrees in education and para-medicine. She is a graduate of the Chaplaincy Nevada Theology Academy, where she is now an instructor, and has completed their advanced Clinical Pastoral Training.
Annette is honored to be the Teaching Lead of the Nevada State Chaplains Task Force: Crisis and Critical Response Team, which assists first responders, state officials, government entities and agencies, and Nevada citizens in times of disasters or other crises. Annette was part of the team that was on hand to assist after the 1 October Shooting in Las Vegas in 2017.
Having been a student herself with BeADisciple, Annette understands the benefits and joys of online education, and is excited to share those benefits with others!