Quick Info:
Number of weeks: 6
Price: $65
CEUs: 1.0
Required books?: Yes
Live video session?: No
Part of a certification or series of courses?: No
This course will explore the lives of First Responders and what they experience in doing the job they have been called to. For the purposes of this course, we consider First Responders to be fire fighters, police, and paramedics.
At one time, many first responders did not talk about the calls there were on. If they were to show emotion, there was the perception that they might be weak. As a result of all that first responders witness while on duty and even when off duty, it does affect them and their families. Because of all that they witness many of the first responders are dealing with PTSD, depression and anxiety.
There are three required books for this course, which you will need to purchase before you begin.  Other readings, including a workbook, will be provided through the course.  Required texts are:
This class is for pastors and for laity who are involved with pastoral care, to help them understand the challenges First Responders face so they can better provide pastoral care to First Responders and their families. The skills learned in this course may also help you provide pastoral care to military veterans. The average work for this course is 5 hours.
This course is eligible for 1.0 CEU.
About the Instructor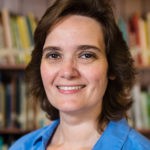 Harriet has two bachelor's degrees and a Master of Divinity degree. She has a Bachelor of Science degree in Business Administration/ Management and a Bachelor of Arts degree in Critical Communications. In 2015 Harriet completed her Master of Divinity degree at Claremont School of Theology (https://cst.edu/).
Harriet's early days in ministry revolved around Christian program development for children, youth, and young adults. Her ministry work started as a volunteer in her local church, which then led to paid staff positions in churches. Since July of 2015, she has been appointed as a licensed local pastor.
Harriet continues to be an advocate for People with Disabilities, Caregivers, First Responders, Veterans, and their families.
Harriet currently offers a free resource called Creative Adventures Through the Bible. You can sign up for the resource at The Lighthouse Design Studio: https://thelighthouse-design-studio.mn.co/