Quick Info:
Number of weeks: 7
Price: $35
CEUs: 0
Required books: No
Blackboard: Yes
Zoom: No
Certification or Series: No
During this Lenten Bible study, we will be exploring 6 different stories from Jesus' birth to the Hallelujah of Easter Sunday.  Each of these stories help us reflect on the passion of Jesus and his promise to us, preparing us for Easter morning.
This Bible study will include art projects, discussion questions, and journaling.  During Holy Week, you'll create a special project that you can give to others.
You'll need your Bible, the art supplies listed below, and 7 candles (6 purple, 1 white). Either real or battery-powered candles will work.  You'll also be provided downloadable resources through the course.
Art supplies:
Crayons, coloring pencils, or markers
Pencil or pen
A nail
Purple ribbon or a thin wire
Glue
Flat piece of cardboard
Construction paper or scrapbook paper
A container that you can decorate and use to collect coins
We will start the Monday before Ash Wednesday to begin preparing our bodies, minds, hearts and souls for Lent.
About the Instructor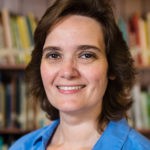 Harriet has two bachelor's degrees and a Master of Divinity degree. She has a Bachelor of Science degree in Business Administration/ Management and a Bachelor of Arts degree in Critical Communications. In 2015 Harriet completed her Master of Divinity degree at Claremont School of Theology (https://cst.edu/).
Harriet's early days in ministry revolved around Christian program development for children, youth, and young adults. Her ministry work started as a volunteer in her local church, which then led to paid staff positions in churches. Since July of 2015, she has been appointed as a licensed local pastor.
Harriet continues to be an advocate for People with Disabilities, Caregivers, First Responders, Veterans, and their families.
Harriet currently offers a free resource called Creative Adventures Through the Bible. You can sign up for the resource at The Lighthouse Design Studio: https://thelighthouse-design-studio.mn.co/