Quick Info:
Number of weeks: 5
Price: $35
CEUs: 0
Required books?: Yes
Live video session?: No
Part of a certification or series of courses?: No
A Caregiver gives so much of their time that sometimes it is hard to carve out time to simply be present at Jesus' feet.
In Luke 10:38-42, we find Mary and Martha welcoming Jesus and his entourage into their home. Martha — being the perfect hostess — goes right to work, but then notices that her sister Mary is just sitting at Jesus' feet. In Martha's mind, Mary is not following biblical custom and is annoyed to find Mary just sitting at Jesus' feet.
But when Martha complains to Jesus about Mary, Jesus' response is priceless: Jesus responds by saying that Mary is right where she needs to be. That 's not to say Martha needs to follow Mary's example. Each woman has their role. Each was in the place they needed to be. This text is a good reminder that we need to find balance in our lives. Sometimes we need to be Martha and sometimes we need to be Mary. This Bible Study is about us finding time to be Mary during our busy lives.
This Bible Study has been designed for Caregivers. Caregivers are pastors, parents of those with disabilities, spouses, adults caring for parents and siblings, nurses, doctors, etc. We will be reflecting on scripture passages and taking time to be present at Jesus' feet.
Come and join us for 5 weeks of being present at Jesus' feet.  All those who participate in this Bible Study will need access to a Bible and a journal book.
About the Instructor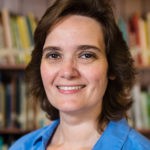 Harriet has two bachelor's degrees and a Master of Divinity degree. She has a Bachelor of Science degree in Business Administration/ Management and a Bachelor of Arts degree in Critical Communications. In 2015 Harriet completed her Master of Divinity degree at Claremont School of Theology (https://cst.edu/).
Harriet's early days in ministry revolved around Christian program development for children, youth, and young adults. Her ministry work started as a volunteer in her local church, which then led to paid staff positions in churches. Since July of 2015, she has been appointed as a licensed local pastor.
Harriet continues to be an advocate for People with Disabilities, Caregivers, First Responders, Veterans, and their families.
Harriet currently offers a free resource called Creative Adventures Through the Bible. You can sign up for the resource at The Lighthouse Design Studio: https://thelighthouse-design-studio.mn.co/