Quick Info:
Number of weeks: 5
Price: $35
CEUs: 0
Required books: No
Blackboard: Yes
Zoom: No
Certification or Series: No
As Thanksgiving approaches, we become busy with all the planning of the holiday season. We plan meals. We purchase items that we hope people will enjoy. Yet, what about taking time to reflect with heart-felt anticipation of the excitement of expecting a new born birth?
During this Bible Study, we will be taking time to reflect on Old and New Testament scripture passages that will guide us on the journey to the manger.  Along the way, we'll discuss wonder, excitement, amazement, and being present.
This class will help you reflect on the gift of Jesus but will also help you take time to reflect on what it means to give thanks for what we have: friends, family, a place to live, and food on the table.You'll share what you and your family do as holiday rituals to celebrate this time of year together, and the study will include ideas of craft ideas or family activities that you can do.
We will be starting the Bible Study before Thanksgiving and ending the week before Christmas.  All those who participate in this Bible Study will need access to a Bible and a journal of some kind.
About the Instructor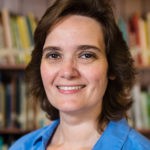 Harriet has two bachelor's degrees and a Master of Divinity degree. She has a Bachelor of Science degree in Business Administration/ Management and a Bachelor of Arts degree in Critical Communications. In 2015 Harriet completed her Master of Divinity degree at Claremont School of Theology (https://cst.edu/).
Harriet's early days in ministry revolved around Christian program development for children, youth, and young adults. Her ministry work started as a volunteer in her local church, which then led to paid staff positions in churches. Since July of 2015, she has been appointed as a licensed local pastor.
Harriet continues to be an advocate for People with Disabilities, Caregivers, First Responders, Veterans, and their families.
Harriet currently offers a free resource called Creative Adventures Through the Bible. You can sign up for the resource at The Lighthouse Design Studio: https://thelighthouse-design-studio.mn.co/