Quick Info:
Number of weeks: 5
Price: $65
CEUs: 1.0
Required books?: Yes
Live video session?: No
Part of a certification or series of courses?: No
Are you a chaplain or clergy person who serves people with dementia?  Or, do you provide worship services to local retirement/ assisted living communities? This course will focus on how we as chaplains and clergy can be more present in our ministry work, including providing a spirit-filled worship service through which those with dementia can know they are loved by God.
This is an intensive course, which means we will be meeting on Blackboard every day for the first two weeks. Then you will have the rest of the course time to do the reading and turn in your final project for the course. If you have any questions or concerns during those remaining 3 weeks, you will be able to contact the instructor for continued dialogue.
Students will need the following books for this course:
Additional resources will be listed during the course for you to add to your library.  This course is eligible for 1.0 CEU.
About the Instructor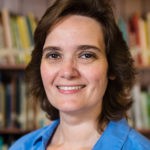 Harriet has two bachelor's degrees and a Master of Divinity degree. She has a Bachelor of Science degree in Business Administration/ Management and a Bachelor of Arts degree in Critical Communications. In 2015 Harriet completed her Master of Divinity degree at Claremont School of Theology (https://cst.edu/).
Harriet's early days in ministry revolved around Christian program development for children, youth, and young adults. Her ministry work started as a volunteer in her local church, which then led to paid staff positions in churches. Since July of 2015, she has been appointed as a licensed local pastor.
Harriet continues to be an advocate for People with Disabilities, Caregivers, First Responders, Veterans, and their families.
Harriet currently offers a free resource called Creative Adventures Through the Bible. You can sign up for the resource at The Lighthouse Design Studio: https://thelighthouse-design-studio.mn.co/