Quick Info:
Number of weeks: 5
Price: $35
CEUs: 0.0
Required books: No
Blackboard: Yes
Zoom: No
Certification or Series: No
This course is to provide you an opportunity to create a sacred space within your home and to take time to work with different spiritual practices to find which one or if there is a combination of spiritual practices that work best for you.
Devotional material will be provided for you for each week. Each week you will have the opportunity to share with the class what is working or not working. This will also be a time to support one another.
This class is something that you can include the whole family in as well and can be used as your Vacation Bible School at home.
For the Course you will need:
Bible (in book form or you can use the Internet)
A way to journal – either on the computer through a word document or in a journal book
A candle – either with a battery or a wick that you light
A special cloth
A small table
Paper to draw on and/or print out downloads on
Colored pens/ crayons or markers
Other supplies will be listed for each week if and when needed
This course is not eligible for CEUs.
About the Instructor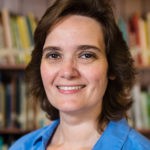 Harriet has two bachelor's degrees and a Master of Divinity degree. She has a Bachelor of Science degree in Business Administration/ Management and a Bachelor of Arts degree in Critical Communications. In 2015 Harriet completed her Master of Divinity degree at Claremont School of Theology (https://cst.edu/).
Harriet's early days in ministry revolved around Christian program development for children, youth, and young adults. Her ministry work started as a volunteer in her local church, which then led to paid staff positions in churches. Since July of 2015, she has been appointed as a licensed local pastor.
Harriet continues to be an advocate for People with Disabilities, Caregivers, First Responders, Veterans, and their families.
Harriet currently offers a free resource called Creative Adventures Through the Bible. You can sign up for the resource at The Lighthouse Design Studio: https://thelighthouse-design-studio.mn.co/