Quick Info:
Number of weeks: 6
Price: $65
CEUs: 1.0
Required books?: Yes
Live video session?: No
Part of a certification or series of courses?: No
The changes in worship format that have been necessary during 2020 have had at least one wonderful side effect—as congregations were forced to go online, people with disabilities and families that include children, youth, and young adults with disabilities were finally able to participate and be a part of the worship service. Now online worship is here to stay.
This course will explore alternative and creative ways to engage and inspire congregations in this new time of doing worship that also includes people with disabilities. Because many rural areas do not have access to internet, the structure of the material proposed can be used for an online or in-person format.
Harriet has written the planner Engage and Inspire: Worship Planning and Ideas for 2021. Included are outlines for outside worship, for podcasts or video recordings, and a prayer and fellowship that can be in person or online through an online video conferencing platform.  In this course, we will work together planning worship services for the Season of Lent and Easter Sunday.
Learners will be required to obtain a copy of the following book:
Additional Materials will be provided to download or look up online.
This course will run for 6 weeks and is eligible for 1.0 CEU.
About the Instructor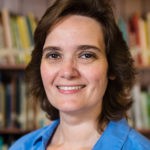 Harriet has two bachelor's degrees and a Master of Divinity degree. She has a Bachelor of Science degree in Business Administration/ Management and a Bachelor of Arts degree in Critical Communications. In 2015 Harriet completed her Master of Divinity degree at Claremont School of Theology (https://cst.edu/).
Harriet's early days in ministry revolved around Christian program development for children, youth, and young adults. Her ministry work started as a volunteer in her local church, which then led to paid staff positions in churches. Since July of 2015, she has been appointed as a licensed local pastor.
Harriet continues to be an advocate for People with Disabilities, Caregivers, First Responders, Veterans, and their families.
Harriet currently offers a free resource called Creative Adventures Through the Bible. You can sign up for the resource at The Lighthouse Design Studio: https://thelighthouse-design-studio.mn.co/