Quick Info:
Number of weeks: 8
Price: $125
CEUs: 3.0
Required books?: Yes
Live video session?: Yes, required
Two centuries have passed since the first missionaries began following Christ's urging that His disciples take the Gospel to all the world. Today's missionaries are facing a vastly different world than these early messengers. "Starting Right: The Biblical Foundation for Engaging in Mission" will explore the biblical mandate to love your neighbor, as well as the understanding of taking the Gospel to Jerusalem, Judea, Samaria, and the ends of the world.
You will examine how these commands have been interpreted in the past and how today's missionaries can learn from mistakes that have been made in the past. For example, what does it mean to "do no harm"? And how can mission be interpreted in the light of the Bible, the past, the present, and the future? The recently-retired director of the Office of Mission for the Oklahoma Conference will facilitate the class.
Learners are required to have these for the class:
Christian Mission: How Christianity Became a Global Religion by Dana L. Roberts
The Mission of God's People: A Biblical Theology of the Church's Mission by Christopher J. H. Wright
The Mission, movie from 1986; starring Robert De Niro, Jeremy Irons  Available to rent for approx $3.99 from various online sources (Prime Video is one)
Learners are suggested to have this book:
Called to be Sent: Co-Missioned for Disciples Today by Anthony J. Gittins
*Using the Amazon Affiliate link further supports our ministry. Thank you!
The live sessions for this course are required.  These will be held on Thursday evenings at 7:00 pm Eastern time/ 6:00 pm Central for the duration of the six weeks.
This course is eligible for 3.0 CEU.
About the Instructor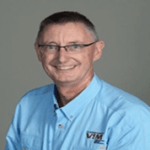 Rev. Jeremy Basset, a recently retired United Methodist elder who served as Director of the Office of Mission for the Oklahoma Conference for the last 15½ years, has accepted the position of North Texas Conference Disaster Response Coordinator.
After earning undergraduate and graduate degrees from Rhodes University in Grahamstown, South Africa, Rev. Basset served as a Methodist pastor in that country for nearly 20 years before moving to the United States to further his studies. He is married to Lesley, a retired preschool teacher and children's ministry leader, is father to sons Gareth and Adam and has two granddaughters.