Vivid in imagery, story, and emotion, the world of country music is a space where many turn to grieve, celebrate, endure, and even pray. "Country Music and the Christian Faith" is for learners who want to connect their love of music and their spiritual lives. This three-week course explores the connections between music, faith, and community without leaving behind the edgier parts of the country genre.
Much of the course consists of listening to and reflecting on music that reflects the history and diversity of country music, creating space for shaping spiritual practices and meaningful playlists. Optional gathering times will be provided for listening and reflecting. The resource library will be a mix of articles, videos, and podcasts on the history, theology, and spirituality of country music from Alan Jackson to Zac Brown.
While there are no required textbooks, a Spotify account (free or premium) is required to listen to assigned playlists and build new playlists. Instructions will be provided  to set up Spotify account.
Optional meetings on Thursdays at 7p/ET
This course is eligible for .5 CEUs
Quick Info:
Number of weeks: 3
Price: $50
CEUs: .5
Required books?: No
Live video session?: Yes, Optional
Part of a certification or series of courses?: No
About the Instructor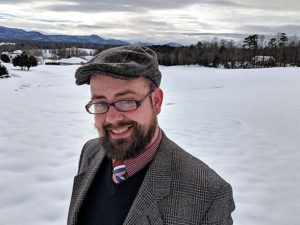 Jonathan LeMaster-Smith lives with his wife, Shannon, in Hildebran, North Carolina (District 12 of the Hunger Games movies). He holds a PhD in Christian Education and Congregational Studies from Garrett-Evangelical Theological Seminary with a focus on Rural Ministry and Methodist Studies. His work includes presentations on Dolly Parton, articles on ditch lilies, and musings about the genius of mayonnaise.