Quick Info:
Number of weeks: 6
Price: $60
CEUs: 1.0
Required books?: Yes
Live video session?: No
Part of a certification or series of courses?: No
Let's face it — moving into 'life after 60' is difficult.  It's hard to face changes to the life situations we've come to know. Still, God walks with us through every moment and this time of life can hold many opportunities!
This course is based on the Upper Room book Pilgrimage Into The Last Third of Life: 7 Gateways To Spiritual Growth by Jane Thibault and Richard Morgan. The authors represent a diversity of 'last-third' ages — Jane is a baby boomer and has only recently retired, while Richard has lived for several years in an assisted living facility. Through reflection on their own aging, the authors turn to scripture and whimsically ask; "What Would An Old Jesus Do?"  Participants in this course will reflect on topics ranging from facing death, living with limitations, working internally on yourself and your faith, and leaving a legacy.
Students must have a copy of Pilgrimage Into The Last Third of Life: 7 Gateways To Spiritual Growth, by Jane Thibault and Richard Morgan for this course.
Eligible for 1.0 CEU.
About the Instructor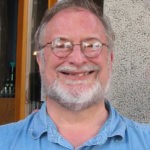 Brian McCaffrey is a recently retired ELCA Lutheran clergyperson who spent 27 of his 30-plus years in Specialized Pastoral Care.  He serves as the chair of the National Forum on Spirituality and Aging, as well as on the board of Sage-ing International.
Brian has moved with Helen and their two cats from Upstate New York to the Twin Cities of Minnesota to be near family and friends.