Quick Info:
Number of weeks: 1
Price: $30
CEUs: 0.5
Required books?: No
Live video session?: No
Part of a certification or series of courses?: No
Don't you just love it when your favorite hymn is played at church? The words fill you with special feelings that take you into the presence of our Lord – don't they?
In this course, you'll learn how to write your own hymns – and you don't even have to be musically gifted! We'll be taking a brief look at the history of hymns including the works of Charles Wesley, the great hymn writer of the Wesley family, and then dive into learning a methodology that will allow you to easily create hymns of your own.  We will find out what makes a hymn a hymn, the different categories of hymns, how they are metrically structured, and how we can write our own hymn lyrics. If you want to take your hymn writing a step further and set it to music, instructor Nancy Golden will provide a fee-based resource you can contact to do so.
Then Sings My Soul is a fun course that's designed to be an act of worship as you follow your heart to express your love for God through creative expression. And remember that it doesn't matter if you have musical talent or not – we are all in this class to please our audience of One by learning to express our adoration of Him through song. You may not be musically talented, but you can always make a joyful noise unto the Lord!
This course is eligible for 0.5 CEUs.
About the Instructor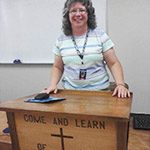 Nancy Golden has a passion for sharing her faith and a heart for people of "every tribe and language and people and nation." She graduated from Dallas Christian College and earned her master's degree from Liberty Baptist Theological Seminary. Nancy's seminary work included theology and Bible with an intercultural studies focus. Her passion for evangelism led her to author a book, The Second Greatest Commandment Meets the Great Commission: How to Love Your Neighbors to Christ (HIS Publishing Group, 2013). She authored a second book, Taking Back Advent: Moving from the Mundane to the Miraculous (Golden Cross Ranch LLC 2018) in the same easy-to-read style to bring a satisfying component to each day of the Christmas season.
Nancy is an adjunct faculty member at Dallas Christian College and has taught How to Study the Bible, New Testament Survey, and World Religions. In addition, she has developed a cross-cultural missions course for Dallas Christian College that incorporates both the theology and the history of missions.
Nancy and her husband Phil are are members of the Carrollton Church of the Nazarene in Carrollton, Texas. Nancy is very active at her church and she is also the Director of the Carrollton League of Writers, an outreach of the church that provides their weekly meeting place. When she is not busy with her family, students, and church activities, Nancy can be found riding her horse, Pistol, who fortunately does not mind listening to her sing praise and worship songs!
Visit Nancy's website to learn more about how to share your faith.
Past Students Said…
"What was my favorite part?  Everything!  The best part was that I with little musical education could do this!"
"I got a greater understanding of the difference between hymns and contemporary songs and I was reminded of the importance of exigesis."
"I found it very helpful to have the feedback of other class participants. We were able to communicate effectively and offer one another encouragement, opinions and resources."
"The process of taking the course got me back into working on my songwriting and reviewing passages of scripture I had started setting to music but never completed."
"I learned a bit of history and how to recognize meters in the hymnal."