Where is God calling you to be in ministry? Is God calling you to a lay leadership position at your church or in your community, or is God calling you to a clergy position? Maybe you are a clergy person trying to figure out next steps in your ministry.
If you are listening for God's voice, this Bible study is for you. As you discern God's call, this course will lead you through the process in a creative way. The hope is that at the end of the Bible Study you will have a clearer understanding of your call.  
In addition to the required books, please have access to lined or plain writing paper; writing instruments: pencil, pen, colored pencils, markers, crayons; magazines you can cut or rip; glue; or a computer program that allows you to be creative such as PowerPoint, Publisher, or Word. 
Learners are required to obtain these book:  Blessed Wrestling: Biblical Reflections on Discerning God's Call by Jessie Squires Colwell and Hearing God's Call: Ways of Discernment for Laity and Clergy by Ben Campbell Johnson
*Using the Amazon Affiliate link further supports our ministry. Thank you!
This course is worth 0.0 CEUs.
Quick Info:
Number of weeks: 4
Price: $45
CEUs: 0
Required books?: Yes
Live video session?: No
Part of a certification or series of courses?: No
About the Instructor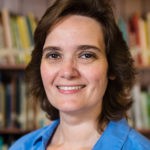 Beginning as a volunteer, Harriet Wilkin's early ministry revolved around Christian program development for children, youth, and young adults. This led to paid staff positions in churches and since July 2015, she has been appointed a licensed local pastor.  
Harriet has two bachelor's degrees and a Master of Divinity degree. Her Bachelor of Science degree is in business administration/ management and her Bachelor of Arts degree is in critical communications. In 2015 Harriet completed her Master of Divinity degree at Claremont School of Theology. 
Harriet continues to be an advocate for people with disabilities, caregivers, first responders, veterans, and their families.  Connect with Harriet on her website by clicking this link.