Quick Info:
Number of weeks: 3
Price: $70
CEUs: .5
Required books?: Yes
Live video session?: Yes, Required
Part of a certification or series of courses?: No
Most of Jesus' ministry takes place in the countryside of Galilee. He visits farms, small towns, and industrial sites, and travels miles from place to place. His ministry setting is similar to the landscapes of today's country churches.
The parables and miracles are short stories and community events that help the rural people of the Roman Empire see themselves as more than the forgotten and the abused in the boondocks. These Scriptures can offer a similar salvation to the people of modern rural communities, especially when we read them as country people with country ways of talking, connecting, and making do.
This three–week course helps pastors and layfolk in rural settings embrace the parables and miracles of Jesus as their own story. These bite–sizes pieces of the Gospel become tools for discipleship, mission, and evangelism. Through video, discussion posts, and group meetings, the participants will find their community in Scripture and will discover the stories of Scripture in their community. 
Learners will need to obtain this book:
Rural Evangelism: Catching the Vision by Kevin Ruffcorn
Required meetings on Tuesdays at 7(EST) 
This course is eligible for .5 CEUs
About the Instructor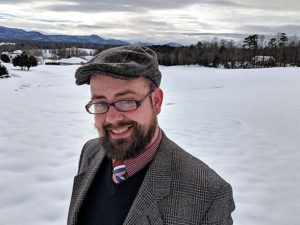 Jonathan LeMaster-Smith lives with his wife, Shannon, in Hildebran, North Carolina (District 12 of the Hunger Games movies). He holds a PhD in Christian Education and Congregational Studies from Garrett-Evangelical Theological Seminary with a focus on Rural Ministry and Methodist Studies. His work includes presentations on Dolly Parton, articles on ditch lilies, and musings about the genius of mayonnaise.