Quick Info:
Number of weeks: 5
Price: $20
CEUs: 0
Required books?: No
Live video session?: No
Part of a certification or series of courses?: No
Do you like spending time outdoors in God's creation? Are you looking for a Bible Study that you can do as a family this summer? Do you like to be creative? 
This Bible Study will encourage your entire family to have fun over the summer learning about God's creation as they learn Scripture text. Music is included with each session as well. Whether you are staying at home or traveling, you can take this Bible Study where you go. It's also appropriate for a group of friends and can be enjoyed by persons in a wide range of ages. 
A full list of needed supplies will be available on the first day of the class.
About the Instructor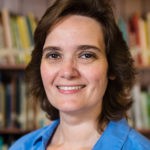 Beginning as a volunteer, Harriet Wilkin's early ministry revolved around Christian program development for children, youth, and young adults. This led to paid staff positions in churches and since July 2015, she has been appointed a licensed local pastor.  
Harriet has two bachelor's degrees and a Master of Divinity degree. Her Bachelor of Science degree is in business administration/ management and her Bachelor of Arts degree is in critical communications. In 2015 Harriet completed her Master of Divinity degree at Claremont School of Theology. 
Harriet continues to be an advocate for people with disabilities, caregivers, first responders, veterans, and their families.