A relaxed pace (one film every two weeks) + a reduced load (watch a synopsis of a film if you don't have time to watch the whole thing) + a critical eye (to the ways spiritual themes play in the movies) + a safe place to share (facilitated by a certified spiritual director): Put them together and you have the basis of this course that explores key themes of Christian spirituality and spiritual formation through the lens of Hollywood classics.  
Every two weeks, learners will engage a different film synopsis (key scenes, "cleaned up" as necessary) then discuss spiritual themes seen in each film via a live/recorded Zoom lecture and discussion board conversations. Films include the "Godfather" trilogy, "The Matrix," "The Way," "Chocolat," and "Tender Mercies."
Downloadable resources will augment discussions and promote a deeper exploration of key themes, including the ways Christ and culture might be understood as interacting, the nature of faith and grace, the importance and meaning of community in spiritual formation, the nature of opposition and resistance in our spiritual journeys, and the concept of the Christian life as a journey to our "true selves" in Christ. 
This course is eligible for 1 CEUs.
Quick Info:
Number of weeks: 10
Price: $70
CEUs: 1.0
Required books?: No
Live video session?: Yes, optional
Part of a certification or series of courses?: No
About the Instructor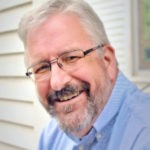 After 35 years of active parish ministry in the East Texas area (including several congregations in Houston), the Rev. Dr. James H. "Jim" Reiter took early retirement in 2018 so that he and his wife, Kathy, could pursue their interest in spiritual formation on a full-time basis. Together they founded Zoe-Life Explorations (www.zoe-life.net). Through this ministry and a variety of other roles (including lead instructor for BeADisciple's Certification in Spiritual Formation program, spiritual director, a ministry specialist in spiritual direction and in spiritual formation for the Texas Annual Conference and others), Jim's mission is to facilitate discussions and experiences of spiritual formation for individuals and faith communities.