We have a unique and vital role to play in suicide prevention but many of us face the same quandary, which is how to work with someone who is suicidal. Many different perspectives on suicide contribute to some confusion which is why we need help knowing how to minister and talk to a variety of different individuals.
We need tools, including appropriate definitions and an approach to the integration of psychology with theology. Perspectives on suicide are not the only contributions to confusion about suicide, myths about suicide are pervasive. When our church members, co-workers, family members or friends struggle in the darkness, the darkness need not overcome them. Discover how you can become proactive in caring for those at risk of self-harm.
Students are required to have a copy of Preventing Suicide: A Handbook For Pastors, Chaplains and Pastoral Counselors By Karen Mason
This course is eligible for 1.0 CEU.
Quick Info:
Number of weeks: 2
Price: $70
CEUs: 1.0
Required books: Yes
Blackboard: Yes
Zoom: No
Certification or Series: No
About the Instructor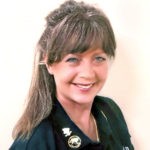 Annette Arnold-Pflaum is an ordained senior chaplain and is the founder and president of Wisteria Ministries. She has specialized in grief support and crisis counseling since the beginning of 2015.
Sr. Chaplain Annette is a Nationally Board Certified Chaplain [BCC], and has been a State of Nevada Licensed Interfaith Minister since 2014. She is also a Certified Lay Minister in the United Methodist Church and holds a certificate in Congregational Leadership.
A retired Nurse/EMT with 20 years of Medical Experience, Annette holds a bachelor's degree in psychology/family studies and associate degrees in education and para-medicine. She is a graduate of the Academy of Religious Studies, Ministerial Seminary, Chaplaincy Nevada Theology Academy, and has completed advanced clinical pastoral training. She has been an Academy Instructor.
Annette is the consulting director of the Nevada State Chaplains Task Force: Crisis, Trauma, Emergency & Critical Incident Response Team, which assists in times of disasters or other crises. She was part of the response team that assisted after the October 1, 2017, Las Vegas shooting.
Having been a student herself with BeADisciple, Annette understands the benefits and joys of online education, and is excited to share those benefits with others!