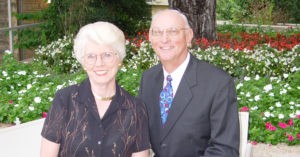 BeADisciple.com is a ministry of the Richard and Julia Wilke Institute for Discipleship at Southwestern College. The Institute was chartered by Southwestern College, a United Methodist-affiliated 4-year university in Kansas, on April 20, 2001.
Named for Bishop Richard Wilke and his wife, Julia, the Institute is dedicated to carrying on the Wilkes' legacy by providing educational opportunities that build Christian communities, encouraging small groups that sustain and uplift their members, engaging in high quality theological content, and resourcing a global church.
Bishop Richard (Dick) Wilke is currently serving as Bishop-in-Residence at Southwestern College. Together, Dick and Julia coordinated, designed, and wrote the DISCIPLE Bible study, a training for Christian leaders, with nearly three million graduates in more than 10,000 congregations in 30 denominations. The DISCIPLE series is now available in a wide variety of languages, including Korean, Spanish, French, German, two dialects of Chinese, and several Southeast Asian languages.
Elected to the episcopacy of the United Methodist Church in 1984, Bishop Wilke served for 12 years in the Arkansas area. While serving as bishop, he worked to emphasize church growth and evangelism, at all times maintaining his love for the local church. He served on boards of colleges, hospitals, and on general boards of the United Methodist Church. Dick continues to reside in Winfield, Kansas, after Julia's passing in 2016. The couple has four children, nine grandchildren, and six great-grandchildren.