The puzzle piece of autism, a traditional representation of this population, can be an important part of Jesus' puzzle.  
Recent data shows that about 1 in 44 children have been identified with autism spectrum disorder*, but few churches have ministries that serve these children and their families. This course is designed for individuals who are looking to design new autism ministries within their churches, and reflects decades of personal experience: The instructor and his wife are parents of three autistic sons. The autism ministry he has developed in churches where he is a youth worker let similar families and friends of autistic persons know the church values their relationships with God and want their children to develop divine relationships as well.  
This six-week course requires participation in discussion forums, light reading, completion of a short interview, and observation of an existing ministry. 
*Estimates from CDC's Autism and Developmental Disabilities Monitoring (ADDM) Network 
Learners will need to obtain this book: Autism and the Church by Barbara J. Newman, Ten Things Every Child with Autism Wishes You Knew by Ellen Notbalm, and I See Things Differently: A First Look at Autism by Pat Thomas.
This course is eligible for 1.0 CEU.
Quick Info:
Number of weeks: 6
Price: $60
CEUs: 1.0
Required books: Yes
Blackboard: Yes
Zoom: No
Certification or Series: No
About the Instructor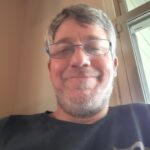 David Quel's passions are ministry and the special needs community. He has worked in ministry more than 25 years as a youth director and in pastoral care. In addition to a master's degree in education from Slippery Rock University, he earned a master's certificate in autism studies from Seton Hall University, a Master of Divinity from Pittsburgh Theological Seminary, and a doctorate in education from Liberty University. He continues to search for new ways to help the autistic community be more welcome within the church community, and is eager to share these methods with others through online courses.