Quick Info:
Number of weeks: 5
Price: $70
CEUs: 1.0
Required books?: No
Live video session?: Yes, optional
Part of a certification or series of courses?: No
Adapting words from Elizabeth Barrett Browning, we might observe that "Hollywood's crammed with heaven and every common film afire with God and Gospel Truth." Join us in a Lenten film festival that explores the intersection of Hollywood and Divine. We will address the various ways Christ and Gospel can be perceived as relating to culture (including the movies), and the various ways Christ and Gospel have been treated by Hollywood (and vice-versa).
Among the films we'll discuss are the "Godfather" trilogy, "The Matrix," "The Way," "Chocolat," and "Tender Mercies."  
Learners will explore common themes in these films. What is the importance and meaning of community? How is the Christian life a journey to our "true selves" in Christ? What resistance do we experience in the journey of faith? What are the rewards of persevering in our journeys?
Sessions each week will include an initial 60-75 minute presentation (via Zoom and available thereafter via a recording) featuring a 30-40 minute synopsis of the week's film (including key scenes, "cleaned up" as necessary) followed by a preliminary discussion of key observations and themes. Follow-up discussions between the instructor and course participants will take place on Blackboard discussion boards. Downloadable resources will enhance each week's discussions and reflections.
This course is eligible for 1 CEUs.
About the Instructor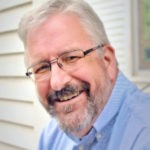 After 35 years of active parish ministry in the East Texas area (including several congregations in Houston), the Rev. Dr. James H. "Jim" Reiter took early retirement in 2018 so that he and his wife, Kathy, could pursue their interest in spiritual formation on a full-time basis.  
A 1983 graduate of Texas A&M University, Jim earned his M.Div. and D.Min. from Perkins School of Theology. Coursework at Garrett Evangelical Theological Seminary led to Professional Certification in Spiritual Formation through the United Methodist Church.  Subsequent studies had Jim being certified as a Spiritual Director (via the Episcopal Diocese of Texas) in June 2021. 
Throughout the course of his pastorate, spiritual formation has been Jim's interest and passion. This has included explorations in the contemplative life, immersion experiences in monastic settings, leadership in retreat settings, research in stages of faith development, experience with traditional and less-traditional spiritual disciplines, and a keen interest in the intersection of Christ and culture.  
Jim and Kathy founded Zoe-Life Explorations (www.zoe-life.net) in 2018.   Through this ministry and through a variety of other roles (lead instructor for BeADisciple's Certification in Spiritual Formation program, spiritual director, faculty member at the Find School of Spiritual Direction and Formation, and a ministry specialist in spiritual direction and in spiritual formation for the Texas Annual Conference), Jim's mission is to facilitate discussions and experiences of spiritual formation for individuals and faith communities.