This course is for those who already have an awareness of the Enneagram and the Enneagram type they consider to be "their" type, or their home space. Learners will explore four facets of deeper Enneagram wisdom:  the central triads of the Enneagram; how their Enneagram stance influences how they experience and relate to the world; how each number (style) tends to shift to other styles in times of stress and health; and the defense mechanism of each number.
Each week's material will be presented in a 90-minute Zoom meeting on Mondays. This session will be recorded and available to be viewed by other learners at their convenience. Participants will share how the teaching is impacting their daily lives during these sessions and through weekly Blackboard posts. Weekly assignments will include reading assignments and questions for discussion on Blackboard. Regular participation is required to receive certification that you have completed this course.
Learners will need to obtain this book:
The Journey Toward Wholeness by Suzanne Stabile
In addition to Blackboard interactions, 4 optional Zoom meetings will be held on Mondays at 7pm Central time. The meeting will be recorded. If learners do not attend the Zoom meeting, they will need to access the recording to receive the week's content.
This course is eligible for 2.0 CEU.
*Using the Amazon Affiliate link further supports our ministry. Thank you!
Quick Info:
Number of weeks: 4
Price: $70
CEUs: 2.0
Required books: Yes
Blackboard: Yes
Zoom: Yes, optional
Certification or Series: No
About the Instructor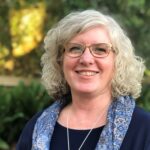 A 1983 graduate of Stephen F. Austin University, Kathy is a certified Enneagram facilitator, a trained spiritual director, and a graduate of the Upper Room's Two-Year Academy of Spiritual Formation. She serves on the staff of the FIND School for Spiritual Direction and Formation (of the Episcopal Diocese of Texas) and is a retreat leader.
Along with her United Methodist clergy spouse, Rev. Dr. Jim Reiter, Kathy co-founded Zoe-Life Explorations. This ministry focuses on offering spiritual direction as well as retreat and program offerings designed to facilitate experiences in and conversations about spiritual formation in the lives of individuals and faith communities.