In the believer's journey through the spiritual landscape, one size doesn't fit all–each traveler needs shoes that conform to the shape of the individual soul. A single regimen doesn't work for all souls at various locations in that landscape.
Gleaning from the first course in BeADisciple's Certification in Spiritual Formation program (Spiritual Disciplines for Personal and Parish Renewal), this course examines spiritual formation and how considerations of "stages of faith" and "spiritual temperaments" can inform choices and engagement of spiritual practices into deeper, fuller transformation. 
Though it borrows from a certification course, key differences will make this a less intensive commitment: no weekly papers or required books (though downloadable resources will augment weekly video lectures and discussions). 
This course is eligible for 1.5 CEUs.
Quick Info:
Number of weeks: 4
Price: $75
CEUs: 1.5
Required books: No
Blackboard: Yes
Zoom: Yes, optional
Certification or Series: No
About the Instructor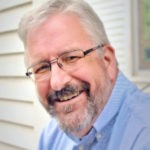 After 35 years of active parish ministry in the East Texas area (including several congregations in Houston), the Rev. Dr. James H. "Jim" Reiter took early retirement in 2018 so that he and his wife, Kathy, could pursue their interest in spiritual formation on a full-time basis. Together they founded Zoe-Life Explorations (www.zoe-life.net). Through this ministry and a variety of other roles (including lead instructor for BeADisciple's Certification in Spiritual Formation program, spiritual director, a ministry specialist in spiritual direction and in spiritual formation for the Texas Annual Conference and others), Jim's mission is to facilitate discussions and experiences of spiritual formation for individuals and faith communities.