The Bible has been called a road map for life. Over this eight-week course, learners will dive into the letters of Paul, one of the most influential people of the New Testament. These books should be considered a wonderful education towards the continual development of our Christian character and a spiritual journey toward learning more about ourselves and the teachings of Paul.  
The classes will involve reading, Zoom meetings, and small assignments. 
In addition to Blackboard interaction, Class will be asked to meet once a week on zoom with the instructor and other students from the class for one hour. The meeting will not be recorded.
This course is eligible for 2.0 CEU.
Quick Info:
Number of weeks: 8
Price: $60
CEUs: 2.0
Required books: No
Blackboard: Yes
Zoom: Yes, required
Certification or Series: No
About the Instructor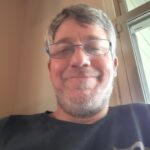 David Quel's passions are ministry and the special needs community. He has worked in ministry more than 25 years as a youth director and in pastoral care. In addition to a master's degree in education from Slippery Rock University, he earned a master's certificate in autism studies from Seton Hall University, a Master of Divinity from Pittsburgh Theological Seminary, and a doctorate in education from Liberty University. He continues to search for new ways to help the autistic community be more welcome within the church community, and is eager to share these methods with others through online courses.