Have you ever wanted to bring Christian education materials to a wider audience? Online learning allows for great flexibility — anyone with a reasonable internet connection can participate in your course — while maintaining a strong learning environment.  Students and instructors log in and participate at the time of day that works best for their own schedule while still maintaining connection and daily interaction.
This is a two-week course designed to familiarize learners with the mission of the Institute for Discipleship and specifically BeADisciple.com, which hosts online courses.  This course covers the basics of building, planning, and teaching online courses using the Blackboard software as well as the policies and procedures of BeADisciple. This course is required for all instructors before building their own courses on BeADisciple.com, but it is only required once.
In the first week, participants will use the software as a student in order to experience its various features from the perspective of a student in an online course.*  Mid-week, learners will be given a practice course site to administer as if building and leading a course in order to learn to use the tools. Many who come into this How To course with ideas and plans for a course of their own end up developing much of their actual course structure in the second week. Upon completion of the How To course, participants will be certified to offer their own courses through BeADisciple.com.
Zoom Pro is used by BeADisciple as the synchronous (live meeting) software.  Opportunity to meet with the course instructor, Lisa Buffum, will be offered during week two for anyone enrolled who does not have Zoom experience or anyone who would like 30 minutes of personal tutoring.
* It is highly recommended that anyone new to BeADisciple first participate in a course as a learner before attempting this instructor training.
This course is eligible for 1.0 CEU.
Quick Info:
Number of weeks: 2
Price: $100
CEUs: 1.0
Required books?: No
Live video session?: Yes, optional
Part of a certification or series of courses?: No
About the Instructor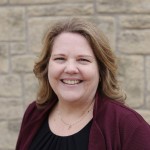 Lisa is the Director of Online Education for the Institute for Discipleship, overseeing the ministries of BeADisciple.com. Lisa completed a Master's degree in Christian Ministry from Friends University in Wichita, Kansas, in May of 2006.
She is the mother of three children and her family is very active as lay members at First UMC in Winfield, Kansas. Lisa teaches IFD100 How to Provide Your Course Online and other courses as needed, and provides technical assistance for instructors and participants for every IFD course.
Past Learners Said…
"I learned how to develop & submit my course idea, and in addition, I learned how the Blackboard software works & what parts might work best with the course I am working on. Learned TONS in 2 short weeks!"
"I feel that I have a good working knowledge of how to create my own class, using a wide variety of tools and methods.  I'm confident that if I'm not sure how to do something, that Lisa will be available to help me figure it out and that makes it much less scary! 🙂  "
"Lisa was knowledgeable, personable, and friendly as a teacher.  I appreciated the efforts she took to keep me and other students engaged and on schedule.  I also admire the time and energy she put into each  person's course review – wow! I know having that video to guide me when I get around to completing my class content will be very valuable."
"This course did a really great job of integrating hands-on instruction and independent work by the student. I liked how each part was divided neatly into weekly sections, so that I could sample the course work and get guidance in the first week and then run with my own attempt at creating a course in the second week."
"Lisa was a wonderful course facilitator. There was grace when a busy schedule got in front of some of my
work. She stayed in contact and made sure that we knew what was upcoming and how best to manage our
time. I feel more familiar with Blackboard due to this course."