Quick Info:
Number of weeks: 2
Price: $60
CEUs: 1.0
Required book: Yes
Blackboard: Yes
Zoom: Yes, optional
Certification or Series: No
Are you longing for a deeper spiritual path? Looking for a framework for understanding mystical experiences of women? Or just wanting to learn a little of the history and theology of mystical faith? This two-week course on Women Mystics in the Christian Tradition should help you with all of that.
We'll start by looking at the definition, scriptural foundation, and history of mysticism through the lens of women mystics in various eras, then we'll explore several women mystics and their writings more deeply. Finally, we'll discuss how (or if) the faith of these women can inform our spiritual lives today.
Learners should expect to spend an hour a day online in reading and responding which will earth a completion certificate. There will also be one optional Zoom meeting. 
Learners will need to obtain this book:  Women Mystics in the Christian Tradition by Elizabeth A. Perry
This course is eligible for 1.0 CEU.
About the Instructors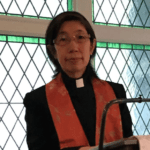 Dr. Asayo Okumura Thomas is an ordained minister in the United Church of Christ of the Metropolitan Association, New York Conference.
She was born and raised in Japan, breathing in the grace and embraced by the love through her mother's bodhisattva sutra chanting. Her doctoral research project at the New York Theological Seminary was "The Sea of Silence: Ceaseless Renewal of the Mind and Heart in Unification of the Trinity through Mindful Meditation."
Currently, she serves at the Community Church of the Pelhams as an assistant pastor for spiritual development. Her spiritual gift is to invite people to open their hearts gently and naturally to be reunited with the love of God through a mindful meditation with biblical verses in Lectio Divina or the ancient Mystic method.  She loves to be in nature, like floating on the ocean wave, walking in the forest communicating with trees, and contemplating in birds singing or simply silence.
Past Students Said…
"I learned the definition of mysticism, that there were Jewish women mystics, information about 20th century women mystics, and that medieval women mystics used the idiom of love to describe their mystical experiences."