Annette Arnold-Pflaum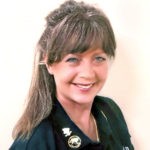 Annette Arnold-Pflaum is an ordained senior chaplain and is the founder and president of Wisteria Ministries. She has specialized in grief support and crisis counseling since the beginning of 2015.
Sr. Chaplain Annette is a Nationally Board Certified Chaplain [BCC], and has been a State of Nevada Licensed Minister since 2014. She is also a Certified Lay Minister in the United Methodist Church and holds a certificate in Congregational Leadership.
A retired nurse, Annette holds a bachelor's degree in psychology/family studies and associate degrees in education and para-medicine. She is a graduate of the Chaplaincy Nevada Theology Academy, where she is now an instructor, and has completed their advanced Clinical Pastoral Training.
Annette is honored to be the Teaching Lead of the Nevada State Chaplains Task Force: Crisis and Critical Response Team, which assists first responders, state officials, government entities and agencies, and Nevada citizens in times of disasters or other crises. Annette was part of the team that was on hand to assist after the 1 October Shooting in Las Vegas in 2017.
Having been a student herself with BeADisciple, Annette understands the benefits and joys of online education, and is excited to share those benefits with others!