This course describes the Psalms, often referred to as the hymnal of the Bible, as a fascinating compilation of songs where God meets the historical experience of God's people. It allows readers to thank God for God's faithfulness and goodness yet lament God's apparent absences and complain of God's apparent neglect. No emotion goes unexpressed in the Psalms – joy, delight, calm, grief, sorrow, fear, doubt, hope, care, and perplexities, all of which can be expressed in music. Through these prayers, poems, and expressions of faith, learners find their identity as God's people. The class will study the Psalms in the context of the worship life of ancient Israel and how they inspire our worship today.
Learners will need to obtain these books for this class:
Invitation to Psalms: Participant Book by Michael Jinkins
Worship in Ancient Israel: An Essential Guide by Walter Brueggemann
Live optional session will be set with learners input.
This course is eligible for 3.0 CEU.
*Using the Amazon Affiliate link further supports our ministry. Thank you!
Quick Info:
Number of weeks: 6
Price: $125
CEUs: 3.0
Required books: Yes
Blackboard: Yes
Zoom: Yes, optional
Certification or Series: Yes  (Music Ministry)
About the Instructor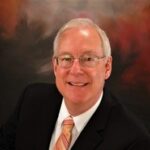 Dr. Jeffery Seeley recently retired as the associate professor of church music at the Mercer University Townsend School of Music and as the director of music at Vineville United Methodist Church in Macon, Georgia. He holds degrees in music and theology from Lycoming College, Drew University, and Mansfield University, and a D.Min. degree in church music from Emory University. Dr. Seeley, an ordained deacon in the United Methodist Church, has held positions as pastor, professor, and church musician for almost 50 years. 
Past Learners said…
"The content from this course and its sister courses is long overdue and addresses a special need. Highly valued."
"I was drawn to the unique content and value the educational style and substance presented by the instructor."
"[Jeff] puts his courses together very well. He wants to make sure that we are getting everything out of our learning process. He is always there if we have any questions, and he is very understanding."
"Dr. Seeley does an excellent job challenging students to reflect upon their own experiences (past and present) and to be open to new interpretations of the text as we look at ways to utilize the information."