Would a Bible-based play liven up your worship time during the Advent/Christmas season? Would the production include all ages and ability levels? This course can make that happen with step-by-step guidance that includes rationale, story choice, plot, characters, acting parts, setting, direction, music and sound effects, props and costumes, meaningful end goals, advertising, and suggestions for a cast/crew party—all based on ONE source, God's word, the Bible!  
Learners are required to participate in daily lessons, practice assignments, and Blackboard interactions with other students. Optional Zoom sessions will be offered. Led by a Biblically trained and committed ordained UMC minister with professional playwright experience, this course will give you the framework and motivation to share God's love through plays this Christmas and the entire year! 
This course is eligible for 1.0 CEU.
Quick Info:
Number of weeks: 2
Price: $80
CEUs: 1.0
Required books: No
Blackboard: Yes
Zoom: Yes, optional
Certification or Series: No
About the Instructor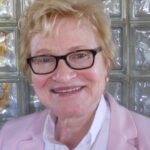 Darlene E.R. Resling is a lifelong Methodist living out her call as an ordained United Methodist elder in the New York Conference after serving as a secondary school English teacher for 33 years. She uses creative means to encourage persons of all ages to hear God's words of love and hope through the Bible. As an author, she has written and published a series of three Bible playbooks, as well as eight playbooks of inspirational men and women. Darlene has also written Bible studies, poetry, and hymns, plus articles for "The Circuit Rider," "The Upper Room," "The Vision," and "The Connector." In her spare time, she is a mindful photographer.
Past Learners Said…
"It was inspiring and fun.  Darlene really did provide a step-by-step guide and guided experience to writing a play.  In addition, she was open to incorporating our ideas and encouraged us to engage with one another.  I have never written a play and this class gave us a safe space to try doing that."
"I appreciated the availability of the instructor and her quickness to respond."
"I was impressed how discussion with peers helped with ideas and how direction avoided negativity."
"Darlene impressed me with her patience, knowledge, kindness, and prayerfulness."