This course is for those who must preach in the wake of mass trauma. 'Preaching on Fractured Ground' is designed to help pastors and other leaders prepare sermons for "holding the reality of brokenness, pain, and traumatic loss on one side and hope, resurrection, and redemption on the other." This course includes two sermon forms for preaching in the wake of mass trauma, and engages lament to honor narrative fracture while attending to brokenness and not losing sight of hope.  *Quote taken from "Fractured Ground" by Kimberly R. Wagner.
Learners will need to obtain this book:  Fractured Ground: Preaching in the Wake of Mass Trauma by Kimberly R. Wagner.
In addition to Blackboard interactions, two (2) required Zoom meetings will be held the second week. The time (Central Standard/Daylight Time) will be determined with learner input and at the instructor's convenience. The meetings will be recorded.
This course is eligible for 1 CEUs.
Quick Info:
Number of weeks: 2
Price: $70
CEUs: 1.0
Required books: Yes
Blackboard: Yes
Zoom: Yes, required
Certification or Series: No
About the Instructor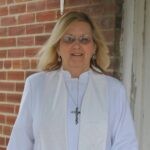 Nan Nelson is a retired elder in full connection. She understands the connection not only between churches, but also the special connections churches have with their communities. She believes that churches in concert with caring communities spread God's love and grace.
Nan has a heart for preaching and caring ministry. She is appointed to a solo pastorate, and she currently serves on the district Committee on Ordained Ministry and as a circuit elder and clergy mentor.