This course introduces the Psalms by exploring the impact of the Psalms for understanding who God is, what it means to be human, and how this knowledge influences interaction with the world. The class will study the Psalms in the context of the worship life of ancient Israel with a view to their role in the present day. 
The Book of Psalms, often referred to as the hymnal of the Bible, is a fascinating compilation of songs where God meets the historical experience of God's people. It allows readers to thank God for God's faithfulness and goodness yet lament God's apparent absences and complain of God's apparent neglect. No emotion goes unexpressed in the Psalms – joy, grief, sorrow, fear, doubt, hope, care, and perplexities, all of which can be expressed in song. The Psalmist will say, "How long, O Lord? Will you hide yourself forever?" (Psalm 89:46a) but, in the same breath say, "Great is the Lord and greatly to be praised." (Psalm 48:1a). In this course, learners will explore how to live out this dichotomy in their daily lives. Through these prayers, poems and expressions of faith, they will find identity as God's people. 
Session Topics:
Week 1: Prayer
Week 2: Language of the Heart
Week 3: A Geography and Theology of the Imagination
Week 4: Lament and Praise
Week 5: Grace and Repentance
Week 6: Love and Wrath, Hallelujah and Amen
Learners will need to obtain these books for this class:
Invitation to Psalms: Participant Book by Michael Jinkins
Worship in Ancient Israel: An Essential Guide by Walter Brueggemann
Live optional session will be set with learners input.
This course is eligible for 3.0 CEU.
*Using the Amazon Affiliate link further supports our ministry. Thank you!
Quick Info:
Number of weeks: 6
Price: $125
CEUs: 3.0
Required books?: Yes
Live video session?: Yes, optional
About the Instructor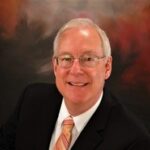 Dr. Jeffery Seeley recently retired as the Associate Professor of Church Music at the Mercer University Townsend School of Music and as the Director of Music at Vineville United Methodist Church in Macon, Ga. He holds a D.Min. degree in church music from Emory University, an M.M. in choral conducting from Mansfield University, an M.Div. from Drew University, and a B.A. in music from Lycoming College. Prior to his appointment at Mercer, he was the Director of Choral Activities and Instructor of Music at Elmira College. Dr. Seeley, an ordained minister, has held music ministry positions in churches, often accompanied by pastoral and worship development responsibilities, for more than 40 years.