This Sampler course is for those who are considering the Music Ministry Certification Program but are unsure about whether the program is a right fit for them. It is designed for choir directors and directors of music, praise band leaders and members, organists and instrumentalists, choir members and pastors, worship & music committee members, and others interested in music ministry. This four-day course will explore each of the four courses in the certification series, including a Bible study on the Psalms, theology in church music, congregational song and practical applications. The lead instructor and a recent alum of the program will lead this overview without a large registration fee or time commitment on the learner's part.
All materials will be provided online and, therefore, there will be no resources to purchase for this course. There will also be an optional Zoom meeting the day before the online course officially begins.
This course is eligible for 0.5 CEU.
Quick Info:
Number of Weeks: Less than 1
Price: $30
CEUs: 0.5
Required books: No
Blackboard: Yes
Zoom: Yes, optional
About the Instructor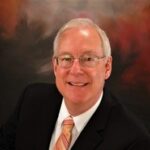 Dr. Jeff Seeley is the lead instructor of the Music Ministry Certification Program, which is beginning its 3rd cohort in August 2023. He has served in church music positions as a practitioner for over 40 years and recently retired from college teaching in the field.