Everyone dreams! Many believe that God's forgotten language for speaking to humanity comes in the form of dreams. Fourteen Biblical dreams will be reviewed along with their messages to the original dreamers. Course participants will identify the meaning of dream images, examine dreams as a group, and make journal reflections. Alternative activities are provided to dream recall and recording as needed. You will discover the voice of divine image within, God longing to take shape in the world, and a healing balm needed in this chaotic world.  
Class work includes discussion forums, Zoom groups, and "Unopened Letters From God: A Workbook for Individuals and Groups" by Rev. Robert L Haden, spiritual director, Jungian analyst, and founder of The Haden Institute in Asheville, N.C. 
In addition to Blackboard interactions, 5 required 90 minute Zoom meetings will be held on day/at time/with learner input/at the instructor's convenience. The meeting will not be recorded.
Learners are required to obtain this workbook:  Unopened Letters From God: Workbook for Individuals and Groups by Rev. Robert. L Haden, Jr.
This course is eligible for 3 CEUs.
Quick Info:
Number of weeks: 7
Price: $100
CEUs: 3.0
Required books: Yes
Blackboard: Yes
Zoom: Yes, required
Certification or Series: No
About the Instructor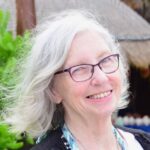 Catherine Luck is retired United Methodist elder and is certified by The Haden Institute in Spiritual Direction. A pioneer among women clergy, she served parish appointments from 1974 to 2005 when she took early disability leave followed by retirement in 2013. During her leave she participated in dream groups and trained with the Heartland Area Jungian Association (HAJA).  
Cathy is a member of the Iowa Annual Conference who lives in Arkansas. She founded OASIS of Northwest Arkansas for women in recovery (and their children) in 2009, serving as the spiritual community director of this transitional program, for 10 years.   
Cathy has been a Disciple Bible Study leader, wrote youth and adult curriculum for the UMC Board of Discipleship and served as program consultant for Iowa UM churches and councils. She has completed the IFD Certification in Spiritual Formation.