Este es un enfoque diferente a la antigua historia de Génesis 1-3. Veremos las estructuras literarias, los símbolos y la belleza de la narración como elementos clave para acceder al mensaje. Dice el relato después de cada día que "vio Dios que era bueno" (y nosotros agregaremos… ¡y hermoso!). La belleza es parte de la creación, y la criatura humana es la única a la que Señor formó para que pueda percibir la belleza.
Más que eso, la narrativa nos presentará preguntas como ¿qué significa ser un ser humano y cuál es la misión que tenemos en el mundo? ¿Por qué estamos aquí y cuál es la voluntad de Dios para nosotros? En estas páginas se presenta la misión del ser humano, la amistad, la sexualidad, el amor y la desobediencia y muchos temas más.  
Además de las interacciones de Blackboard, se llevarán a cabo 4 reuniones opcionales de Zoom el viernes a las 7 p.m. (Eastern time). El encuentro será grabado. 
Información rápida:
Número de semanas: 4
Precio: $60
CEU: 1
Libros requeridos: No
Uso de Blackboard requerido: Sí
Zoom: Sí, requerido
Certificación o Serie: No
Lea la descripción del curso para más detalles.
¿Nuevo en BeADisciple?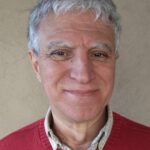 Pablo R. Andiñach es doctor en teología y profesor de Biblia Hebrea en UCEL (Universidad Metodista Argentina). Ha estudiado en la Universidad Hebrea de Jerusalén (1988-89) y en la Escuela de Teología Iliff de Denver, EE.UU. (1990).
En 2004-05 y 2011-12 fue profesor visitante en la Perkins School of Theology, Dallas, EE.UU. Ha sido Director de la Revista Cuadernos de Teología (1996-2011). Es miembro del Consejo Editorial de SEMEIA Studies, de la Society of Biblical Literature y del Editorial Board de  Ancient Near Eastern Monographs.  
Ha publicado numerosos libros en español e inglés, entre los que se destacan "El fuego y la ternura. Cantar de los Cantares," "El libro del Éxodo," "Introducción hermenéutica al Antiguo Testamento," y "El Dios que está. Teología del Antiguo Testamento."
Es ministro ordenado de la Iglesia Metodista en Argentina.