This online course is for members of the Florida United Methodist Conference who are hungry to know how God can use them to help others during COVID-19. This 2-week-course will give you clarity around your talents and the needs of your community. Learn online while connecting with others who want to lead better without losing time from your work and loved ones. Easy and doable even if you are new to online learning.
The Basic Course is a requirement towards becoming a Certified Lay Servant, but it is open to all. Six of the required 10 hours will be offered online with an additional four hours through use of Zoom Meeting software. This course is being offered online on a focused basis to meet needs during the COVID-19 pandemic and is approved for use within the Florida Conference.
Learners will need the Lay Servant Ministries, Participant's Book (Basic Course)
The first Zoom meeting for this course will be held Monday, August 15, 2022 at 6:00 EDT.  The second and third meeting days/time will be scheduled with learner input during meeting 1.  The three Zoom meetings are a required part of this course.
This course is worth 1.0 CEU (10 contact hours).
PLEASE NOTE: If you reside outside of the Florida Conference, and have an interest in this course, you must have written permission to enroll sent from your conference or district director of laity to David Palmer at ncdlayservant@gmail.com.  If you enroll before obtaining this written permission, and cannot obtain it, the cutoff for a refund is Wednesday, August 17, 2022.  No refunds will be issued after this date.
Quick Info:
Number of weeks: 2
Price: $50
CEUs: 1.0
Required books?: Yes
Live video session?: Yes, required
Part of a certification or series of courses?: No
About the Instructor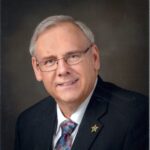 David Palmer serves as the Director of Lay Servant Ministries for the North Central District in the Florida Annual Conference and on the Conference Board of Lay Servant Ministries. He is a member of Belleview UMC and serves on the worship team as a Certified Lay Speaker and liturgist. He also preaches in a fill-in pulpit role. He and wife Karen serve as members of Belleview's Fresh Expressions team. His lay ministry experience includes service as a bible studies teacher, committee leadership on Staff Pastor Parish Relations, Finance, Missions, Youth and Disaster Response and as a past chair of the Administrative Board/Church Council. He serves as a District Lay Delegate, Member-At-Large to the Florida Annual Conference. He and Karen have two children and two grandsons. David brings his passion, experience and spiritual gifts for teaching, mentoring and encouraging to BeADisciple.com. courses.