The cornerstone of an excellent children's ministry program is a solid foundation in the Bible. It's your job as the children's minister to translate the teachings of the Bible into lessons a young and developing mind can understand. But how do you do that with confidence if you're not sure you understand the Bible well, yourself?
This course will examine the Bible as a book of books that was formed in a historical context and recounts historical events. The course will unpack the sections and types of books found in the Bible as well as explore the people of the Bible and the places where the Bible stories took place. We'll also consider how the Bible should be studied and read with a particular consideration for making the Bible, its stories, and its message accessible to children.
Learners are required to have the following books for this class:
This course is eligible for 3.0 CEU.
Quick Info:
Number of weeks: 6
Price: $125
CEUs: 3.0
Required books: Yes
Blackboard: Yes
Zoom: Yes, optional
About the Instructor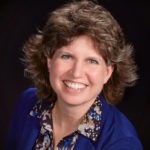 Brenda Hicks is the third grade Sunday school teacher at a United Methodist Church. After being disappointed with the options for curriculum available to her, she sat down and wrote her own curriculum for Children's ministry. She has a Bachelor's Degree in English from Kansas State University, a Master's Degree in Organizational Communication from Wichita State University, and is a graduate of all four of the Disciple Bible Study courses.