Quick Info:
Number of weeks: 2
Price: $50
CEUs: 1.0
Required books: No
Blackboard: Yes
Zoom: No
Certification or Series: No
The best intentions will fall short if they aren't communicated well. If you are asked to fill the pulpit occasionally, are you confident your communication skills are up to that task?
"Communication, Public Speaking, and the Church" will explore what it takes to be heard and understood.
This exploration will include taking time to reflect on the ways people communicate, looking at both your own communication methods and the methods of those around you. You will share ideas of how to overcome the fear of public speaking by exploring the different types of public speaking.
This course is eligible for 1.0 CEU.
About the Instructor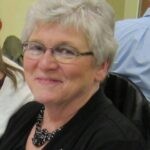 Arlene Schmidt is a new instructor to BeADisciple who lives in Ballston Spa, N.Y. A certified lay minister, Arlene retired after 16 years from a non-profit Child Care Resource and Referral Agency where she was a trainer for childcare providers. She has been a trainer/instructor for more than 25 years in the areas of CPR and first aid, child development, Rotary International leadership (youth leadership awards), and Lay Servant Ministry courses. After being assigned to churches for a few years as a CLM Arlene heard God's call to leave church leadership and focus on bringing the word of God to the laity. Arlene walks alongside students in their faith journeys by teaching courses in the Upper New York Conference leading to certification as Lay Servant, Lay Speaker, and Lay Minister. She also enjoys pulpit supply when invited.