This course will explore how the Bible provides us with examples of people with disabilities were viewed in the Old Testament and then we will take a look at how those with disabilities were welcomed in a community.
As you prepare for the course, please reflect on these questions:
What does it mean to be created in the image of God?
What is the blueprint that the Old Testament outlined for us regarding those with disabilities?
What changed in the New Testament in the way those with disabilities were viewed? Were they welcomed or marginalized?
Since we are studying the Bible and disabilities, one of the required books for this course is the Bible. I listed several different ways below that you can use the Bible. Please use The Bible in the form that is best for you. I do welcome you to try another source for learning the Bible. (For instance, if you like reading from a book, try the audio version of the Bible). Those with learning disabilities learn differently. So, it is good to consider other ways of learning from the text. We will go into this more in the courses being provided in the certification of Ministry with People with Disabilities.
Learners are required to have the following books for this class:
This course is eligible for 3.0 CEU.
Quick Info:
Number of weeks: 6
Price: $125
CEUs: 3.0
Required books: Yes
Blackboard: Yes
Zoom: Yes, optional
About the Instructor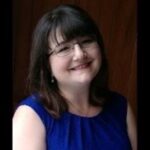 Jenn W has been walking with the Lord and serving in various church leadership roles for over 20 years. She owned a successful tech company for 16 years and is a technologist for churches, non-profits, and businesses. She is a current member of the United Methodist Church and has been a member of UM Women. She is a member of the Disabilities Concerns subcommittee of the Michigan Conferences and a member of various UMC tech support teams. Jenn also provides leadership to UMCDMC.org, which distributes the annual accessibility and hospitality audit for all UM churches. She is a special education advocate for families of children with special needs and has technology expertise in Google Workspace (personal through enterprise/nonprofit) and Microsoft Office Suites, as well as hundreds of other products including virtual reality, 3D printing, and e-design.