News just broke–a catastrophic event has occurred in your community. What do you say to your church as a pastor? A community leader? A lay servant or lay speaker? As a CLM? What is the message when violence, natural disaster, or disease raises questions about where God is to be found during tragedy?  
Fractured Ground, a book study that explores communication following mass trauma, will be your guide whether you are speaking from the pulpit, to the press and public, or to individuals facing the circumstances. Author Kimberly R. Wagner stresses that communication must be clear, and that you must name, acknowledge, and open opportunities to recognize hurt, pain, loss, and brokenness of the community, as well as "attentive to hope, redemption, and new life."   
Learners will need to obtain this book:  Fractured Ground: Preaching in the Wake of Mass Trauma by Kimberly R. Wagner
In addition to Blackboard interactions, two (2) required Zoom meetings will be held: (1) Week 1 Day 3 Wednesday, October 4, 2023, at time to be determined with learner input and at the instructor's convenience; (2) Week 2 Day 4 Thursday, October 12, 2023, at time to be determined with learner input and at the instructor's convenience.
This course is eligible for 1 CEUs.
Quick Info:
Number of weeks: 2
Price: $70
CEUs: 1.0
Required books: Yes
Blackboard: Yes
Zoom: Yes, required
Certification or Series: No
About the Instructor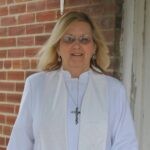 Nan Nelson is a retired elder in full connection. She understands the connection not only between churches, but also the special connections churches have with their communities. She believes that churches in concert with caring communities spread God's love and grace.
Nan's experience includes years of teaching effective communication at the college level. She has a heart for the ministry of the laity and previously served as District Director of Lay Servant Ministry (LSM). She continues to support LSM in her district, where she is appointed to a solo pastorate. She currently serves on the district Committee on Ordained Ministry and as a circuit elder and clergy mentor.