In today's fast-paced, non-stop world that loves production and busy-ness, the contemplative way has never been needed more. (W)Holy Faith: The Contemplative Life invites participants to develop or deepen a contemplative approach to their faith lives, and to explore the rich history of practices within the Christian tradition. Contemplation is all about opening ourselves to God, and consenting to God's creative work within us as we grow in wholeness and holiness.  
This class will provide an overview of the definition, intention, and benefits of regular contemplative practices. It will explore how these practices can build and sustain our awareness of God's presence and creative action, inspiring and nurturing a faith rooted in curiosity, wonder, and a desire to let go of our false selves. 
This course is eligible for 1.5 CEU.
Quick Info:
Number of weeks: 6
Price: $50
CEUs: 1.5
Required books?: No
Live video session?: No
Part of a certification or series of courses?: No
About the Instructor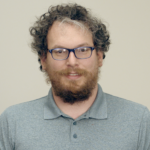 Benjamin McWhorter-Rush is associate pastor of spiritual formation at Church of the Shepherd in St. Charles, Missouri. He received his M.Div. at Palmer Theological Seminary and a Master of Theology (ThM) at St. John's University College of St. Benedict. His areas of expertise are historical theology, emotional health, and spiritual formation–more specifically the contemplative tradition.
He loves teaching theology (especially contextual theologies) and church history (especially the early church fathers and Christian mystics). He leads a growing contemplative ministry at Church of the Shepherd, and coaches others in emotional and spiritual wholeness and health