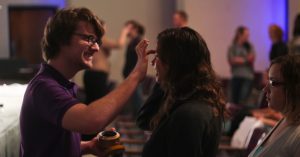 Many of us are receiving ashes on our foreheads today, reminding us of our sin and fragility; and more importantly, of our desire to descend to death with Christ during the season of Lent, that we may somehow "attain the resurrection of the dead." We often find ourselves thrust into liturgical seasons in the midst of our busy lives, unsure of how to slow down and mark the time in a meaningful way.
During Advent, we created a post with a list of resources to help us engage the season. In the same way, we offer you a list of resources to help you walk the journey to the cross. We hope you find something in this list which resonates with your needs this season.
---
If you want something short, but that packs a biblical punch: The Daily Text, from Seedbed
If you are the creative type: The Lent Project, from Biola University's Center for Christianity, Culture & the Arts
If you are looking for ideas for children: Lenten Activities for Children, from Loyola Press (We love that they are arranged by age!)
If you want to hold a book in your hands: Books for a Reflective Lent, from Hearts and Minds Books
For a little of everything: Cardiphonia's Lenten List, from the Cardiphonia blog
For forty ideas from an astute female: 40 ideas for Lent 2015, from Rachel Held Evans
If you lean toward tried and true: The Revised Common Lectionary, as published by Vanderbilt Divinity Library
If you want a Lenten take on Hospitality: Taking on the Practice of Hospitality for Lent, from Duke's Faith & Leadership Blog
If you are ever and always a Methodist: Lenten Resources, from the United Methodist Church
If you want to journey in community: The Miracles of Jesus: A Lenten eRetreat, from your very own BeADisciple, and the Upper Room
Do you have favorite resources? We'd love to hear. Share them in our comments section.