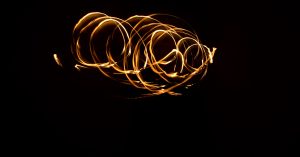 Isaiah 64:1-9 (NIV)
1 Oh, that you would rend the heavens and come down,
that the mountains would tremble before you!
2 As when fire sets twigs ablaze
and causes water to boil,
come down to make your name known to your enemies
and cause the nations to quake before you!
3 For when you did awesome things that we did not expect,
you came down, and the mountains trembled before you.
4 Since ancient times no one has heard,
no ear has perceived,
no eye has seen any God besides you,
who acts on behalf of those who wait for him.
5 You come to the help of those who gladly do right,
who remember your ways.
But when we continued to sin against them,
you were angry.
How then can we be saved?
6 All of us have become like one who is unclean,
and all our righteous acts are like filthy rags;
we all shrivel up like a leaf,
and like the wind our sins sweep us away.
7 No one calls on your name
or strives to lay hold of you;
for you have hidden your face from us
and have given us over to our sins.
8 Yet you, Lord, are our Father.
We are the clay, you are the potter;
we are all the work of your hand.
9 Do not be angry beyond measure, Lord;
do not remember our sins forever.
Oh, look on us, we pray,
for we are all your people.
In this season of Holy anticipation, we are graced with the Holy Scriptures. The prophets give us great insight on how we are to anticipate the coming of Christ, with a twist. The twist is that the prophets are prophesying for the first coming of a Messiah. Because we have the revelation of the scriptures, we know that Christ did come, we know that he died and resurrected on the third day, and we know that he will one day come again. This is the Second Advent. We remember this promise during these four weeks and as I said, reading the prophets can get us in a spirit of holy anticipation in quite a hurry.
In this passage we see Isaiah describing the Israelites as a broken nation, taken captive by sin. There is so much vivid imagery in the text that you can really get a feel for where the Israelites are at this moment in history. They have heard prophesies of a Savior to come, and I can bet they are starting to wonder if he will in fact ever come. Do we ever wonder that? I can admit to losing sight of the promise of the return of Jesus Christ. Sometimes I get so caught up in the present moment that I fail to live into that eternal promise, and I miss out on the joy that comes with knowing that one day Christ will come and make all things new. We all know what it is like to be stretched too thin – especially during the holiday season. I encourage you to take time to remember in this season of Advent that we can take heart against whatever it is that we're going through: help is on the way! Also know that you're not doing this alone – communities all over the world are actively journeying through Advent together.
"Advent reverses the tired cliché of Christmas, "The Reason for the Season," by offering us a "Season for the Reason." –J.D Walt
Just the other day on Sunday night, I was filling in at a worship service in Wichita where we called an audible and decided to play "O Come, O Come, Emmanuel" since it was the first day of Advent. This wasn't a huge deal except that I hadn't played this song since last Christmas (shocking huh?) and we did a transposition on the fly. Anyway this song provided me with a moment to step back, remember, and rejoice in knowing that the Son of God is coming! I played it on repeat all the way back to Winfield.
Matt Maher does a great arrangement of this hymn, listen to it and rejoice!
---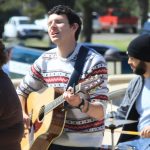 Greg Reffner is a sophomore at Southwestern College majoring in Religion and Philosophy.
This post is the second in a series of posts written by the chapel team at our partner institution, Southwestern College. Follow their weekly journey from Advent to Ephiphany, here.