My name is Derek Maul; I'm a Jesus-follower, a pilgrim-in-progress, and an author for Upper Room Books. I'm also a real fan of this ongoing experiment with on-line learning.
My Passion
My passion is to connect people – men and women – with a more vibrant, authentic experience of what I call "The Life-Charged Life."
For too many years I have observed a dull, listless, creeping mediocrity define both life and ministry for more and more Christians, as well as the church communities where they meet for worship.
However – and at the same time – my wife Rebekah and I:
• Enjoy life-charged experiences in our personal spiritual journeys;
• Have witnessed authentic spiritual growth in the faith communities where she has served as pastor;
• Are seeing transforming faith turn individuals, families, and churches from defeat to vibrant life.
While many church leaders are concerned about numbers (membership, attendance, and budget) we like to talk about discipleship, and the call from God to live as Followers of the Living Way of Jesus.
"Introduce people to Jesus," Rebekah likes to say; "teach them to be disciples, and the numbers will take care of themselves."
Share the Story
A few years ago The Upper Room asked me to tell the story of what I am learning about spiritual growth in a new book for men. The result, GET REAL: a spiritual journey for men (2007), opened the door for a series of books that both encourage and facilitate deliberate, transformational spiritual growth.
In My Heart I Carry a Star (2008), The Unmaking of a Part-Time Christian (2009), Reaching Toward Easter (2011), and 10 Life-Charged Words (2012) all tell an invitational story about being a disciple, and have contributed to an energizing few years of speaking, teaching, traveling, and sharing faith.
Be A Disciple
I'll admit that I'm a reluctant convert to the concept of teaching without being physically present. I prefer the chemistry of actually being there; I'd much rather interact in real time with my students; and I appreciate the give-and-take of speaking in front of a live audience. At the same time I'm well aware that the cost and complexity of getting people together limits the exposure of authors and teachers to a smaller selection of venues such as Sunday worship, retreats, and conferences.
There has to be some way to bridge the accessibility gap, and it turns out that Be A Disciple has been cutting-edge enough in its approach to tempt me to take a second look.
Consequently, when my publisher asked me to work with Be A Disciple to develop an on-line study to go with a couple of my books, I decided to give it the "old college try."
Fun!
To date, I've taught two Advent studies, one men's seminar, and a leadership class for men interested in developing small groups both within their own church and in the "virtual" environment. Each time I've gone on-line with Be A Disciple, I've added more interactive media, including discussions, short videos, slide-presentations, and a tie-in with my daily blog.
The bottom line is this:
• Reading one of my books is great.
• Reading the book along with a few other people is better.
• Reading my book in the context of an on-line class, where the author himself is both accessible and present? Now that's not just "the best," it's what we call BeADisciple.com.
I'm Derek Maul; it's good to meet you; and I can't wait to get to know you in one of my classes!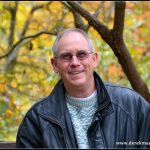 Derek Maul, an award-winning journalist, is the author of several books. Derek and his wife, Rebekah, live in Wake Forest, North Carolina. In addition to writing, Derek travels to speak about the fully engaged Christian life, specializing in men's ministry and spiritual formation events. Derek blogs at http://derekmaul.wordpress.com/.