For the season of Lent, we are taking a break from our usual Lingering Leaves posts in order to focus a bit more on contemplation. Each Friday we will offer a Visio Divina exploring a scripture and image that will help draw us into the Story of Christ's Life, Death, & Resurrection. Journey with us to the cross.
"While Lectio Divina is a method of praying with scripture, Visio Divina (Latin for "divine seeing") is a method for praying with images or other media." (from Patheos, read more on Visio Divina here.)
Artwork for today's meditation is the Winget Altar "Adoration of the Shepherds" by Adi Holzer. Acrylic paint on wooden panel, 100 x 70 cm, gold leaf, mastic varnish.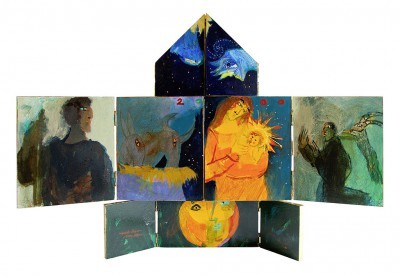 And there were shepherds living out in the fields nearby, keeping watch over their flocks at night. An angel of the Lord appeared to them, and the glory of the Lord shone around them, and they were terrified.  Luke 2:8-9
Preparation
Settle into stillness. Get in touch with your breath and your body.  Relish the silence. Be aware of your desire to grow in intimacy with God.
Gazing Upon the Image
Explore the entire image with your eyes. Look more deeply at the different sections – notice colors, shapes, figures, symbols. Pay attention to anything in particular that captures your attention. Be aware of what calls you to deeper reflection, and let your eyes be drawn to this place and rest there.
Reflection on the Image
Focus on the place in the work of art that captured your attention. Let it draw you more deeply into the experience. Invite it to unfold in your imagination, and notice if it evokes any memories, feelings or other images. Let the image create spaciousness in you. Become aware of what the image touches in you.
Responding to the Image
What is the invitation behind the images, memories, and feelings that unfolded for  you?  How is God speaking to your life through this work of art?  What is the "yes" within you that is longing to be expressed?  Explore your responses through silence or journaling.
Resting with God
Release all the words and images that have been flooding your heart. Rest and be. Close your eyes and savor the darkness and sense of surrender to the depth and breadth of God.
Closing
Offer a prayer of thanks for the gift of this time and for God's presence in beauty and stillness. Do any other verses of scripture come to mind for you in connection to the art?
—————————————————————————–
Feel welcomed to share your insights about the art image with us in the comments section – it will be helpful to share different perspectives.
Acknowledgment for the content of this exercise is due to Christine Valter Paintner and Lucy Wynkoop, authors of Lectio Divina: Contemplative Awakening and Awareness.