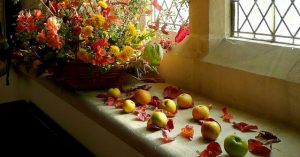 Thanksgiving is the language of heaven, and we had better start to learn it if we are not to be mere dumb aliens there. ~ A. J. Gossip, Professor of Christian Ethics and Practical Theology at the University of Glasgow
When I first met my husband, we were in seminary, which made for many precarious dating scenarios. I had a list of questions for most guys I went out with that I needed to somehow work in covertly before deciding if we should move forward in the relationship. One of these questions was "Do you want to be ordained as a United Methodist pastor?" Now this may sound strange since we were studying in a UM seminary. But as a woman with a calling herself, as well as a deep desire to paint walls and hang artwork in my home; I had no plans to itinerate as the wife of a Methodist minister. My (now) husband said, no he did not, and we went to dinner!
Fast forward ten years. We have moved five times since getting married, most related to my husband's PhD work, jobs, etc. God has a sense of humor. (Plus, now my husband is starting the ordination process, but that's another story). The point of this irony is that God has caused me to see opportunity in the midst of the transitory nature of our lives.
We are approaching Thanksgiving Day, and this week always causes me to remember the many varieties of company that we have hosted on Thanksgivings past. As many of you know, when you live far from family, the Thanksgiving break is really too short to travel home. My husband and I committed early-on that we would try to "become home" for others on this holiday. This tradition began with moderately selfish motives – we didn't want to celebrate alone on Thanksgiving! Who could we host? But we quickly realized that the blessing was mutual. Our celebrations have included graduate students, church friends, international friends, and neighbor children. Our spread has included the traditional turkey, dressing, and cranberry sauce; alongside Japanese dishes, English wassail, and this year we will have Malaysian food too (thank you Deborah!). And of course, we all share our stories of thankfulness around this glorious table.
As I reflect on this opportunity-turned-blessing, I am reminded of our forefather in the faith, Abraham, and his invitation to the three mysterious visitors to his table (Genesis 18). As you remember, one of these visitors brought news to Abraham and Sarah that she would indeed bear a son, and we know the rest of the story.
Since getting married, my husband and I have sought to bring a bit of this "new economy" – heaven's economy – into our everyday lives, and you can too! Who can you welcome to your table this year? College students who can't travel home? International friends who may want to learn Thanksgiving traditions? Even those without a home or family? Consider how you might invite God's blessing into your family's traditions.
God transformed the transitory life of our family into a space to cultivate a little slice of the Kingdom in our own home, even if against my will! Remember, this all started with me not wanting to date a future pastor. And, for the record, I am really thankful I did.
Happy Thanksgiving!
---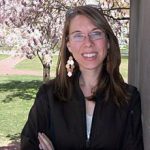 Shannon Steed Sigler is a community artist, curator, and theologian. She also serves as the Director of Social Media Communications for BeADisciple.com. Shannon is the mother of a creative three-year-old and the wife of a liturgical scholar. Her own work and research center around a Wesleyan paradigm for the visual arts. Visit her website here.
Main post photo credit: Jonathan Billinger