Grief can be a lonely place, and those who care for persons who are grieving often find themselves at a loss. Helping Others Grow Through Their Grieving will explore how those who minister to the grieving and those who accompany family or friends can guide them to grow during this difficult time.
The four-week course will share a book study based on Understanding Your Grief by Alan D. Wolfelt, PhD, an educator and grief counselor who has written 50 books on grieving. Dr. Wolfelt is founder and director of the Center for Loss and Life Transition in Ft. Collins, CO, and is known nationwide for his compassionate messages about healing in grief.
Learners will share their experiences of counseling the grieving as they study the insights and lived experience of Dr Wolfelt, through his book.
In addition to Blackboard interactions, 4 required weekly Zoom meetings will be held at the instructor's convenience. The meeting will not be recorded.
Learners will be required to obtain a copy of the following books (the Newer Version, September 1, 2021):
Understanding Your Grief: Ten Essential Touchstones for Finding Hope and Healing Your Heart by Alan D. Wolfelt, PhD* & Understanding Your Grief Journal: Exploring the Ten Essential Touchstones by Alan D. Wolfelt, PhD*
*Using this Amazon Affiliate link further supports our ministry. Thank you!
This course is worth 1.5 CEUs
Quick Info:
Number of weeks: 4
Price: $80
CEUs: 1.5
Required books: Yes
Blackboard: Yes
Zoom: Yes, required
Certification or Series: No
About the Instructor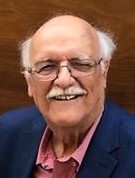 Jerry Herauf (M.A., M.Div.) trained and ministered in the Jesuit community for 18 years before continuing his lay service in publishing, pastoral care, and bereavement ministry for more than four decades.
 He has been chaplain and director of pastoral care ministries in hospitals and long-term care facilities in New Jersey and Pennsylvania over the past 20 years. He currently is PRN (as-needed) hospice chaplain with Revolutionary Home Health and Hospice in Allentown and Eynon, Penn., and facilitates seminar courses and bereavement support groups online and in-person.  
Jerry is a spiritual counselor, certified by the Jesuit Spirituality Center (Guelph, Ont.). He has directed retreats ranging from one-on-one counseling to Ignatian retreats lasting up to 30 days, as well as those taking place in everyday lives.  Of all his ministries, he has found his work among the grieving to be one of the most poignant. 
Past Learners Said…
"Jerry is very knowledgeable."