guest post by Beth Perry
The last few months have been hard for me – and they've led me to make a sad and rather frightening change!
You see, I was teaching two courses at a traditional college, leading a directed study at another college, teaching online for BeADisciple.com, and the Pastoral Counselor at Chelsea Community Church. It was a lot!
I knew I needed to make some changes but the challenge was how to do that – what choices would be best – most manageable – or even possible? Eventually, I determined (with help from Tony and my accountability group!) that the best way to keep my head above water would be to resign from my position as Pastoral Counselor.
I've been in that position for going on four years and I have enjoyed the time so much. I am grateful to CCC for welcoming me into their congregation so warmly – and for sharing so much with me over those years!
And that's why the change is so sad! But it's also a little frightening as I try to decide how to move forward in new territory!
But that's what change is like, right? Buddhism holds that all change is suffering or, more accurately, that the fact that everything changes is the core cause of suffering.
I wouldn't make a very good Buddhist because I'm okay with change! In fact, one of my favorite verses of scripture is this quote from a change-loving God: "I am doing a new thing; can you not see it?"
Like the sun changing the sky from pink to blue, like the change in my Safe Sanctuaries course mentioned below, and like this big change in my working life, a new thing is going to happen and I'm looking forward to seeing it!
Safe Church/Sanctuary – Changes Ahead!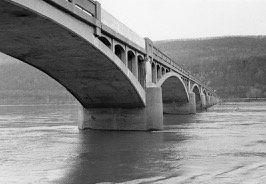 This bridge was an important part of my childhood. It linked my home community – called "The Island," a small strip of land where two rivers merged – with larger communities to the east.
When first built, it was the longest arched bridge of its kind but, as times changed and nature took its toll on the structure, it needed an upgrade!
I was sorry to see the old bridge go but I was also happy when the new bridge made crossing the river a little less perilous. It's one of many experiences in my life that have taught me that change can be a very good thing!
That belief is why I'm so excited to tell you that my Safe Church/Safe Sanctuary workshop on BeADisciple.com is going to be changing! It has been a great workshop to lead over the past decade but much has changed in that time and the new workshop will meet the needs of a new time in church life.
The current format workshops will be offered two more times (see the schedule below), and the new Creating Safe Spaces for Children and Youth Ministries will start on October 18th (sign up here to be notified when this course opens for enrollment!).
---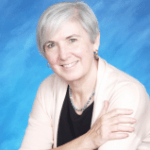 Beth Perry is a popular instructor at BeADisciple.com.  Read more about Beth and the courses she teaches on her bio page.  This blog post is excerpted from one of her newsletters.
Look over these classes being offered by Beth at BeADisciple.com in the coming months to see if something strikes your interest!
March 25-29: Five Day Intensive Safe Sanctuary online course. (CEU's available)
April 1-12: Becoming Accountable Disciples – Advanced Lay Servant course. (CEU's & certificate available)
April 22-May 3: Leading Bible Study: Biblical Interpretation, Advanced Lay Servant/Speaker/CLM course. (CEU's & certificate available). This course has a significant book and it is necessary to read it before the course begins. Be sure to sign up early so you can enjoy the two week course!
May 20-24: Women Mystics in the Christian Tradition, online course. This course hasn't been offered in quite awhile so it is being updated and revised! (CEU's available)
May 20-24: Five Day Intensive Safe Sanctuary online course (CEU's available)
June 3-June 14: Rediscovering Our Spiritual Gifts, Advanced Lay Servant/Speaker/CLM course. (CEU's & certificate available)
---