Quick Info:
Number of weeks: 1
Price: $50
CEUs: 0.5
Required books?: No
Live video session?: No
Part of a certification or series of courses?: No
Seven days, seven ways to pray.  This retreat offers an opportunity to discover prayer in new ways by exploring seven different prayer practices. Prayer is a powerful way to cultivate a deeper relationship with God. The retreat is designed so that you may enter the retreat daily at a time convenient for your schedule.
The retreat offers daily readings, scripture, videos, and reflections.  As you journey through the retreat you may wish to incorporate photography, journal, or prayer beads.
By the end of this retreat, you will have explored seven different ways of prayer that can be incorporated into your prayer life.
This course is worth 0.5 CEUs.
About the Instructor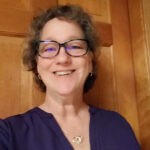 Ginifir Giddinge was a bi-vocational local licensed pastor serving for eight years in the United Methodist Church. In 2019, she felt the nudge of a call beyond the church building to serve the homeless youth population in a transitional living program.
Ginifir holds a B.S. degree in Human Services, and has taken theological course of study classes through United Theological Seminary. She is currently a deaconess/home missioner candidate. In 2018, she received her certificate in spiritual direction and congregational formation through the two-year Gateway to God training provided by the New England Conference of the United Methodist Church.
Ginifir is also a retreat leader and mindfulness nature connection guide. She recently led an online retreat for a group of United Methodist Women when meeting in person was not an option due to Covid19.  She has a passion for spiritual wellness and sharing ways of connecting with God in our daily lives.