Quick Info:
Number of weeks: 2
Price: $60
CEUs: 1.0
Required books?: Yes
Live video session?: No
Part of a certification or series of courses?: No
Are you grieving the death of someone who was an important part of your life? Perhaps your spouse, child, parent, or close family member? Could it be a good friend, co-worker or neighbor?
The loss that death brings is painful beyond words. No one can anticipate the emotional and spiritual agony that accompanies it. Life can lose meaning. You may find your sense of self-worth diminished. The sadness and loneliness you feel may seem to consume all your energy.  And as if the regular flow of grief wasn't difficult enough, holidays and special dates can cause us acute pain that make the grief fresh all over again.
Grieving is first and foremost something you do to heal your wounds after experiencing a terrible loss in your life. It doesn't have to be passive and just something that 'happens to you'. You can take charge of your journey through grief just as others have done. One of the great discoveries you will make is that your very best friend in times of grief and loss is yourself! You are the one person who can turn the pain of your loss into a creative hurt.
Be assured: you can have a satisfying and meaningful life after loss. Even with the worst of losses, you will begin to heal.
Students are required to have a copy of Life After Loss, by Bob Deits, for this course.
This course is eligible for 1.0 CEU.
If you are dealing with a loss that isn't related to a death (divorce, loss of a job, etc.), you might be interested in Crossing the Bridge: Life After Loss, which specifically deals with these kinds of losses.
About the Instructor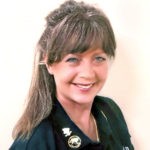 Annette Arnold-Pflaum is an ordained senior chaplain and is the founder and president of Wisteria Ministries. She has specialized in grief support and crisis counseling since the beginning of 2015.
Sr. Chaplain Annette is a Nationally Board Certified Chaplain [BCC], and has been a State of Nevada Licensed Minister since 2014. She is also a Certified Lay Minister in the United Methodist Church and holds a certificate in Congregational Leadership.
A retired Nurse/EMT with 20 years of Medical Experience, Annette holds a bachelor's degree in psychology/family studies and associate degrees in education and para-medicine. She is a graduate of the Chaplaincy Nevada Theology Academy, where she is now an instructor, and has completed their advanced Clinical Pastoral Training.
Annette is honored to be the Teaching Lead of the Nevada State Chaplains Task Force: Crisis and Critical Response Team, which assists first responders, state officials, government entities and agencies, and Nevada citizens in times of disasters or other crises. Annette was part of the team that was on hand to assist after the 1 October Shooting in Las Vegas in 2017.
Having been a student herself with BeADisciple, Annette understands the benefits and joys of online education, and is excited to share those benefits with others!
Past Students Said…
"This is an excellent class, everyone should take it."
"The material was excellent and the Instructor was readily available. She gave 110% to the students!"
"The journal entries made us all think deeply and responses were safe and secure. She is obviously a wise counselor with a gift from God for this purpose."
"I appreciated the anonymity that we corresponded directly with Annette about our grief journey. I could be more open and honest about my situation without classmates peering in unless I wanted to share."