guest post by Nancy Golden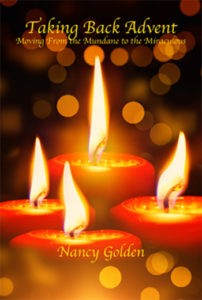 As we are getting closer to Christmas and the Advent season, it is easy to find ourselves overwhelmed with busyness. The pressures of making preparations for family gatherings, Christmas shopping, church activities, and attending Christmas functions can make the days pass in a blur. You may also find your mailbox filled daily with solicitations for donations to various worthy causes. It can be enough to make you to want to pack your bags and escape the holiday frenzy! That is where the example of our Lord Jesus comes in. Luke 5:16 tells us, "But Jesus often withdrew to lonely places and prayed."
All through Scripture, Jesus takes time away from people to spend time with his Father. He understood how important it is to pray for and with others, but he also understood the importance of being alone with God. He often leaves the crowds he is preaching to, and goes up the mountainside so that he can pray alone. He sometimes goes to a garden in the quiet of the evening for prayer.
Jesus ministered to many during his earthly ministry, but he did so according to his Father's will, and he constantly spent time with God. What a great example for us during this Advent season! You are not called to every Christmas activity or event, and you don't have to help everywhere. Quiet your heart and see where God is leading. Don't forget to spend time with Him. As we discussed in a previous devotional, Jesus had multiple purposes for his presence on earth. His greatest purpose is found in Matthew 1:21, to save us from our sins, but he is also an example for us in living a life pleasing to God.
Seek God's will in all that you do, and spend time with Him. Psalm 46:10 reads, "Be still, and know that I am God." Perhaps you need to take a pause from the whirlwind of activities around you and let your Lord minister to your soul, as you await his coming.
* * *
Practice spending time with God through Today's Activity!
Take some time out of your day today to be still. Make a cup of coffee or tea, seek out your favorite place to relax, and put on some worship music or read your Bible. Put aside the stresses of the day. Don't think about anything except that you are a son or daughter of the one true King. The Creator of the universe loves you and knows you by name. Spend some time with your Heavenly Father and let His healing presence soothe your spirit and touch your soul with His peace.
---
This blog post is an excerpt (day seven) from Nancy's new Advent devotional book – Taking Back Advent: Moving from the Mundane to the Miraculous, for sale in Kindle and paperback on Amazon.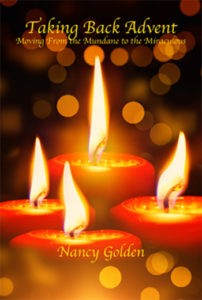 From the book description:
Are you looking for a way to set your focus on the true meaning of Christmas, but don't have a lot of time?
The beginning of Advent marks the first day of the Christian calendar and is a period of anticipation and preparation for the birth of our Lord Jesus Christ. This Advent devotional may be the perfect way to keep the miracle of Christmas in our days. In these pages you will find an easy-to-understand book that is intentionally not very long, so you can savor each reading in a short period of time. I think you will find it very convenient to fit this devotional into even the busiest of schedules, yet it will help you experience the peace and joy that this special time of year brings.
This daily devotional starts on December 1st as an entry point into the Advent season. Each devotional includes a Today's Activity with a suggestion on how to implement what you have been reading about.
I hope you'll consider adding this devotional to your holiday tradition and join me in Taking Back Advent as we move through the Christmas season!
---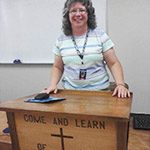 Nancy Golden is an instructor for BeADisciple.com. She teaches Evangelism: How to Love Your Neighbors to Christ, How to Study the Bible, World Religions, and Then Sings my Soul: How to Write a Hymn.  Nancy is a certified lay servant and member of First United Methodist Church in Carrollton, Texas, where she teaches Sunday School and has served on the evangelism and discipleship committees. She is also an adjunct faculty member at Dallas Christian College and the author of The Second Greatest Commandment Meets the Great Commission: How to Love Your Neighbors to Christ and Taking Back Advent: Moving from the Mundane to the Miraculous.
---